East High School


Class Of 1969


Not a member?
JOIN HERE
Find and click on your name.

ANNOUNCEMENTS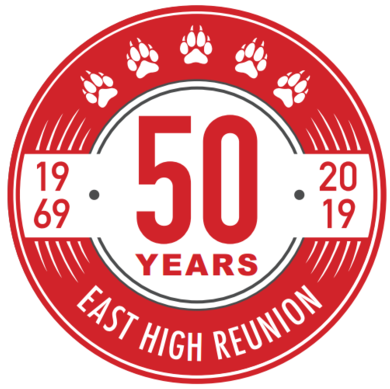 Save the Date!
Class of 1969 50th Reunion
Thursday and Friday
September 5th and 6th 2019
BUFFET DINNER SOCIAL at the Salt Lake Country Club Thursday Sept. 5th, 2019 5:00-11:00 PM. Bring a partner, come with a friend or just come by yourself. Everybody welcome!
WOMENS BRUNCH at Sally Peterson Brinton's home Friday September 6th at 11:30 AM. $8 per person. Directions to follow.
CO-ED GOLF at Forest Dale Golf Course the morning of Friday September 6th.
MENS LUNCHEON at the Forest Dale Golf Course clubhouse following golfing. Details to follow.
BUFFET DINNER SOCIAL Join classmates for a stroll down Memory Lane and reminisce while visiting your favorite High School food hang-outs re-imagined for our reunion.
Cross 8th South to Pete's for gourmet Burgers and Chicken Sliders with Home Made Chips

Head Downtown to Tampico's for Fresh Fish Tacos and Carnitas Burritos
Pop over to

Litza's

for classic Pizza and Custom Tossed Salad made to Order
Finish it off with a trip to Snelgrove's for fabulous Ice Cream Sundaes
Cash Bar will open at 5:00 PM, No charge for sodas and juice
Food Stations will start serving at 6:30 PM until 8:30 PM
Dinner will be open seating and you may visit each of the food stations as often as you like and change your seating to mix and mingle throughout the evening.
Take plenty of time to re-connect and visit with as many old friends and acquaintances as you can – who knows how much longer we will be able to recognize each other and eat solid food!
Throughout the evening we will be treated to Intermittent Commentary and Entertainment from Luminaries of the Class of 1969.
We will also be announcing prizes for the winners of the East High Trivia, Song Writing, Poetry, Doggerel, Limerick and Haiku contests. (Watch for upcoming details)
Buffet Dinner charge is $85 per person. Watch for upcoming Registration details.
THIS COULD BE OUR LAST REUNION! Please reach out to your old friends and classmates and invite them to come with you. Don't let anyone stay away because of the cost. We will have a "scholarship" fund set aside to help cover the cost so everyone can participate.
ATell Us About Yourself. Please click the "Edit Profile" link on the left and add a little info about yourself and what you've been up to since the last reunion. Please add current photos.
Please forward the Reunion Date to classmate friends who aren't active on the site, and check out the list on the "Missing Classmates" link to see if you can help track them down.
Click on the "Message Forum" and add your 2 Cents to what others are talking about.
Our condolences to Family and Friends of Our Recently Departed Classmates

Virginina "Ginger" DeLaMare Cannon
March 20, 1951 - April 9, 2019
Virginia DeLaMare Cannon, age 68, passed away on Tuesday, April 9, 2019, at her home in Logan, Utah, surrounded by family, after a battle with cancer. Ginger was born March 20, 1951, in Salt Lake City, Utah, to Donlon and Ardith Kimball DeLaMare. Growing up, she was a second mother to her seven little brothers and a big help to her mother. She was excited to go away to college at SUSC where she studied Elementary Education. She married her sweetheart, Scott Roy Cannon, on Aug. 30, 1972, in the Salt Lake Temple. Together they raised a family of seven children, living in the Salt Lake area, San Antonio, Texas, and Logan, Utah.
Ginger led a life of service to all those around her. She was a faithful member of the Church of Jesus Christ of Latter-day Saints and served in many callings on the ward and stake levels of the Relief Society, Primary, and Young Women's organizations. She loved her Savior, Jesus Christ, and she could often be found visiting those in need, in spite of her ever busy schedule. She and her husband served as a senior missionary couple in the London England South Mission. She served for many years as an ordinance worker in the Logan Temple. She loved singing and was in many choirs and singing groups. She sang with the American Festival Chorus for many years. She served in the P.T.A. and volunteered many hours in local schools. She served as an election judge, and taught her children their patriotic duty to vote every year. She attended countless soccer games, swim meets, band & orchestra concerts, and supported her children and grandchildren every chance she got. She also taught Suzuki piano lessons for many years. Ginger was a friend to so many around her and a beloved wife, mother, sister, aunt, niece, cousin, and grandmother. She adored her grandchildren and spent special time with each one. She made the most delicious roast beef and gravy in her weekly Sunday dinners.
For Ginger, work was a means to an end, not a barrier to fun. To those around her, it was amazing how she kept her house clean, her large family well cared for, and her many duties fulfilled, and yet she still found time to call or visit or bake for someone in need. She made family vacations a priority and so much fun for her family. Even when her cancer limited her mobility and crippled her with pain, she was ever looking to the needs and comfort of others! Ginger's love and care did not cease when someone disagreed with her principles and beliefs. She loved & cared anyway.
Ginger is survived by her husband of 46 years, Scott, her seven children: Scott Jr. (Ivy) Cannon of Logan, Mark (Stacey) Cannon of Laie, Hawaii, Paul (Vilimaina) Cannon of Austin, Texas, Emily (Ben) Gilgen of Woods Cross, Utah, Rachel (Jeff) Whitchurch of American Fork, Utah, Kimberly (Alex) Kelley of Logan, Utah, Melissa (Sammy) Hislop of Layton, Utah, and her seven younger brothers: Philip (Debbie), Kimball (Lisa), David (Kayla), Richard (Julie), Randall (Karen), Michael (Jeanette), James (Carolyn) DeLaMare, and almost-siblings Bruce & Ann Woolstenhulme, and her 16 beloved grandchildren. Ginger was preceded in death by her parents, Donlon & Ardith. Many thanks to all the friends, ward members, and Hospice nurses for all the great help over the last year.
Ginger's funeral will be held on Monday, April 15, 2019, at 2 p.m. at the Logan Foothill 1st Ward building (1450 East 1500 North, Logan). In place of a viewing, before the funeral the family will be available to visit between 12:00-1:45. Interment will be in the Logan City Cemetery. In lieu of flowers, please buy a roast and invite your family over for a Sunday dinner. Condolences and thoughts may be expressed online at www.allenmortuaries.net.
Published in Logan Herald Journal from Apr. 11 to Apr. 13, 2019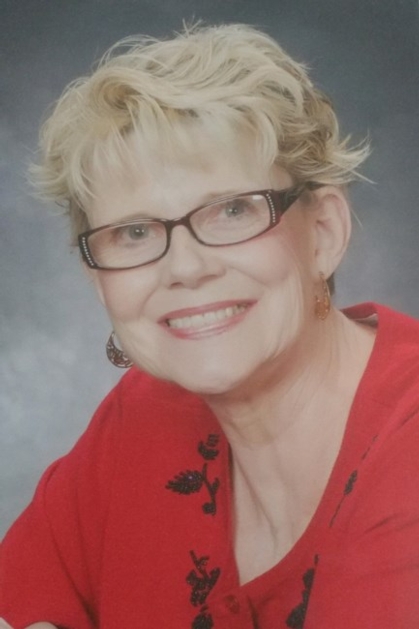 Diane Anderson Westerman
March 13, 1951 - March 13, 2019
Diane Anderson Westerman age 67 had a glorious reunion with her parents on her birthday March 13th after passing away from complications from blood clots in her lungs. March 13th just must have been her day!
She was born to Herman and Bernice Anderson on March 13, 1951 in Salt Lake City. She adored them!
She grew up on the famous Yale Avenue in Sugarhouse and attended East High School. She married Robert Barnard and together they had two daughters, Jody and Jenny. They spent time raising them in Taylorsville where they all made lifelong friends. Robert and Diane later divorced.
She later married Ron Westerman and they resided in West Jordan. He died in 2006. Diane loved her junk food. "Anything goes with a Coke" she would say. She loved her house, neighbors and friends. She felt blessed to live so close to such good people and had so much fun with them. Whether it was shopping, swimming or just talking she absolutely cherished every moment she spent with them.
But even more than Rice Krispies Treats and Coke, she LOVED her daughters and her grandchildren. They were always on her mind and they all knew she would do anything for them. She had a very personal, distinct relationship with every single one of them. She was happy when they were happy. We will miss her dry sense of humor and beautiful smile. We look forward to seeing her again someday.
Diane is survived by her daughters Jody (Dave) and Jenny (Carter), Grandchildren Zackary (Andrea), Josh (Natalie), Kyle, Brooke (Parker), Carter Alex (Melissa), Jake, Aimee, Conner, Hannah, Ammon and Libby (dog). Funeral services will be held on Monday March 19th at the Garden Cove Ward located on 1945 W. 9000 S. West Jordan. A viewing will be held from 10:00-11:45. Services will be from 12:00-1:00. Interment will be immediately following at Wasatch Lawn Cemetery 3401 S. Highland Drive Salt Lake City.