East High School


Class Of 1969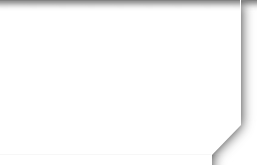 In Memory
Brian Brown VIEW PROFILE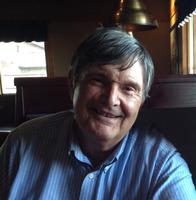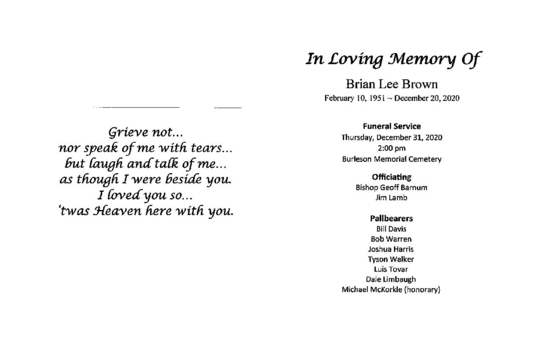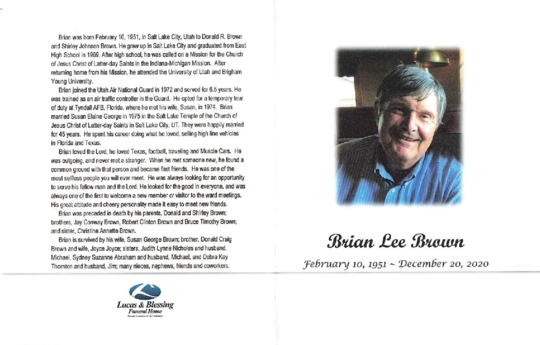 Top Ten Fun Things To Do With Brian Brown in the 7th Grade - A Tribute
by John Adamson
Ten—Ride the 5-State Street bus downtown (2-bits fare) and visit the following: Douglas Model to window shop and occasionally buy Revell Models of Chevys; Race the slot cars; pick up decals for the models we'd already built. Brian never lost the slot car races. He brought 3-in-One oil to help.
Nine—Stop at the record shop on Broadway to listen to 45's with headphones in little curtained rooms. Bought them once in a rare while, mainly to give to each other as presents for Christmas or our joint birthday, Feb 10. Born within hours of each other in the maternity ward at LDS Hospital. Millburn claims we were switched at birth.
Eight—Stop at Pal-D-Mar Lanes on the bus ride home for one (and only one) line of bowling. 35 cents each. I checked out shoes size 6, he 10.5.
Seven—Ride our Schwin bikes down to 13th East between 2nd-3rd South (mere yards from where he took the terrible spill that gave him his scar) to visit the following: Spudnut Shop (for Spudnuts, potato donuts with sugar glaze); Freezer (10 cent Slushies, Lime flavor); The Villager Men's Clothing to see the shirts Bradley would soon be wearing, buy Adler socks and save up for ties, also to give each other for Christmas. I wore one such all the way through college and beyond.
Six—"Borrow" his mother's gray Ford to try to teach me how to drive 3-on-the-column stick. Trouble was that I was too short to reach the clutch and ran it off the road a time or two up on Arlington Drive. Then his big brothers had to come and dig us out.
Five–"Borrow" Federal Heights Ward members' cars for a quick trip to the Spudnut shop (open Sundays!) then back before church let out. Tricky part was remembering to wipe the sugar flecks off our our faces before going back in.
Four—Collecting monthly payment for our paper routes. If Brian came along, people paid up right on the spot. Without him not so much. Plus we got to meet the people we served, my route was lower Aves and full of artistic and bohemian types. It was fun. Brian taught me the job; how to fold papers with or without rubber bands, how to ride no hands and toss papers on the fly, how to double ring the bells and the corner gas stations sending the attendants dashing after us with fists or fingers raised.
Three—Play hoops at The Federal Heights Ward gym. We helped lay the hardwood floor and knew where the soft spots were. He started the Ward ball games, I rode the pine with Dave Evans but when we were all three in, usually late in the game when the big guns were resting or fouled out, we were good. We lost to Milbie and Fielden and their moving picks with forearm shivers to the chin but beat everybody else. Dave was deadly with his lefty rainbow from the baseline and I had a knack for drawing fouls and hitting free throws. Brian held the middle like the Washington Monument holds the National Mall.
Two—Take gunny sacks or ice blocks up to Lindsey Gardens next to the SL Cemetery and slide down the steep grassy slopes behind the Little League baseball fields. We flew. Then fled (cemetery grounds crew people took a dim view of such antics. It wrecked the lawn).
One—Race our Revell models down the steep cement walk that led to the U of U Stewart School front door. The competition were Stewart 8th graders, Dury Pingree, Cy Sherwood, Mitch Black—no slouches themselves to model building and racing. My yellow Chevelle ran well but usually came in 2nd, Brian's gray Nomad wagon (fishing sinker weighted in the back) never lost.
Other fun stuff included Drive In movies with his bros, touch football at Reservoir Park (a venue that soured for him in high school when drugs showed up) and going over to the Eastmonds, always uninvited, and eating Marge's wonderful leftovers. Riki and Tina were either never there or hiding upstairs but Marge didn't mind and neither did we.
Brian was wonderful company from the day I met him in the 5th grade or so to the last text he sent me his hospital bed razzing me about the suddenly hapless New England Patriots.
I will miss him beyond words but remember him always with a smile on my face for the million laughs and goofy adventures we shared.
God bless Susan, his family and his 500 best friends, give or take a thousand. Let him ever remind us to treat our friends like dearest family. That is his legacy and it is a great one.
OBITUARY
Brian Lee Brown,69, passed away on December 20, 2020 at Texas Health Harris Southwest Hospital in Fort Worth, TX. He was born on February 10, 1951, in Salt Lake City, Utah to Donald R. Brown and Shirley Johnson Brown
Brian grew up in Salt Lake City, Utah. Brian graduated from East High School in Salt Lake City in 1969. After high school he was called on a Mission for the Church of Jesus Christ of Latter-day Saints in the Indiana-Michigan Mission.
After returning home from his Mission, he attended the University of Utah and Brigham young University.
Brian joined the Utah Air National Guard in 1972 and served for 6.5 years. He was trained as an air traffic controller in the Guard. He opted for a temporary tour of duty at Tyndall AFB, Florida, where he met his wife, Susan, in 1974.
He spent his career doing what he loved, selling high line automobiles in Florida and Texas.
Brian married Susan Elaine George in 1975 in the Salt Lake Temple of the Church of Jesus Christ of Latter-day Saints in Salt Lake City, UT. They were happily married for 45 years. Brian loved the Lord, he loved Texas, football, traveling and Muscle Cars. He was outgoing, and never met a stranger. When he met someone new, he found a common ground with that person and became fast friends. He was one of the most selfless people you will ever meet. He was always looking for an opportunity to serve his fellow man and the Lord. He looked for the good in everyone and was always one of the first to welcome a new member or visitor to the ward meetings. His great attitude and cheery personality made it easy to meet new friends.
Brian was preceded in death by his parents, Donald and Shirley Brown, brothers, Jay Conway Robert Clinton Brown and Bruce Timothy Brown and a sister, Christine Annette Brown.
Brian is survived by Susan George Brown, spouse, of Burleson, TX, Donald Craig Brown and wife Joyce, brother and sister in law; Michael and Judith Lynne Nicholes, sister and brother in law, Sydney Suzanne Abraham and Michael Abraham, sister and brother in law, and Debra Kay Thornton and Jim Thornton, sister and brother in law, and a host of nieces and nephews, and many, many friends and coworkers.
A visitation will be held at Lucas and Blessing Funeral Home on December 31, 2020. The family will be greeting friends and relatives between 11-1pm. Burial will follow at Burleson Memorial Cemetery at 2:00 pm
In lieu of flowers the family requests memorial donations be made to the Make A Wish Foundation or Lonestar Doberman Rescue, LSDR P.O Box 101782, Fort Worth, TX 76185, or if you'd rather donate online, https://www.lonestardobermans.org/.
https://www.lucasandblessingfh.com/obituaries/Brian-Brown-11/
Click here to see BRIAN's last Profile entry.